How to Create Video Slideshow with Photo DVD Maker
Questions from answer.yahoo.com:
1. What are some good programs on which I can make a picture and video slideshow?
I am making a slideshow in which I will incorporate various photos and videos along with music. If you know of a program in which I can this this easily, please let me know.
2. How to make a photo and video slideshow?
I want to make a slideshow of my son with photos and videos of him in it. What is the easiest way to go about this?
3. Video slideshow?
Is there anyway to make a slideshow with videos not pictures?
Here we recommend Photo DVD Maker, which not only helps to create DVD slideshow, but also makes perfect video slideshow (such as common MPEG video slideshow, YouTube uploadable slideshow, etc. ) with your media collections.

Photo DVD Maker enables to load your original media content such as photos, music, and video clips without limit. It supports adding text on photos, and provides rich photo transition effects & album themes to make your video slideshow animated into life! The output format including common MPEG movie, iPhone/iPad/iPod MPEG-4 video, Android MPEG-4 video, YouTube/MySpace uploadable video, FLV movies, HD video, mobile photo playable movie, etc.
Simple Tutorial to Create Video Slideshow with Photo DVD Maker
1. Preparation
Image: JPG, TIFF, BMP and PNG image
Video: MPEG, MP4, AVI, Divx AVI, WMV, VOB, MOV, FLV, RM/RMVB, ASF video format and etc.
Music: MP3, WMA, WAV, CD sound track and voice narration & recordings
Download Photo DVD Maker:

2. Load your original files: photos, videos, and music background
Enter the page Organize Photo, choose your desired photos or videos, click Add, then all your files are displayed under the toolbar. Click on a photo, then you can rotate it. You can also add text, artclips, subtitle, etc. to the photos.

3. Add transition effects, album themes. Customize details
You can either add a single song to repeat or add multiple songs to be the music background. For multiple audio clips, you can use the option Up and Down to adjust the order. You can also Trim and Rip audio from the original files. As for the transition, hundreds of effects can be choosed from. Click the button Subset, you can find whatever you need. To choose slideshow templates, click the meny Album Theme, in which you can not only choose from the rich and exquisite photo / video slideshow templates, but also add personalized credit opening or closing for your slideshow.

4. Export your video slideshow
Multiple output formats for your video slideshow can be choosed from: MPEG Movie, iPhone MPEG-4 Movie, Android MPEG-4 Video, YouTube Uploadable Movie, FLV Movie, etc. You can also set detailed parameters: video codec, size, frame rate, etc.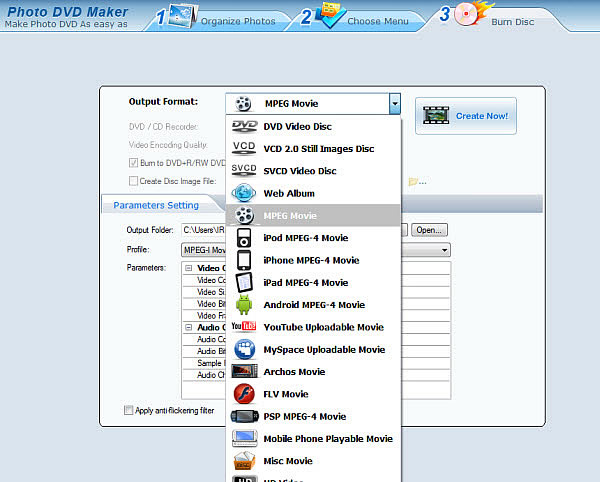 Free Download Photo DVD Trial Version to Make Video Slideshow


Buy Photo DVD Maker Full Version at Only $ 49.95