Create Facebook Photo Slideshow with Music
Creating photo slideshow becomes more and more popular among the young people. It is a way to introduce yourself and a window to show people your story. After making a photo slideshow with music, you may feel proud of yourself, but it is a pity if you just keep it on your computer. Why not sharing these wonderful or funny slideshows on Facebook, uploading slideshow to Youtube video site, MySpace social site and etc? Embedded your created slideshow on Facebook could let more people enjoy your great work that you could gain a lot of pleasure.
Facebook is a social networking website which has been quite popular since 2004. Users can add people as friends, send them messages, and update their personal profiles to notify friends about themselves. To add a slide show on Facebook, it is difficult as currently Facebook doesn't support embeding and uploading flash slideshow or YouTube video, but it is easy on the contrary because you can find way to do this simply with Photo DVD Maker!
Turn your still pictures into an amazing facebook photo slideshow with music? Facebook slideshow maker, Photo DVD Maker, can handle all these. You can add photo and music to the flash slideshow, choose transitions and flash template, and the Photo DVD Maker will create slideshow in flash for you. Most importantly, you are not required to have too much flash knowledge to handle the job of creating Facebook photo slideshow with music.
Tips On Using Facebook Slideshow Maker and Embedding Slideshow on Facebook
In order to help you make full use of this handy Facebook slideshow maker to create photo slideshow embedded on Facebook, we offer you some tips on how to use it more faster.

Add Photos and Transition Effects
Facebook slideshow builder like Photo DVD Maker, has many sections that you can easily finish the job with "drag and drop" action. When you open "photo > file explorer", if there are several unwanted pictures in the folder and you can not add picture by just clicking "add all", you can drag and drop to add the pictures. You can also drag and drop the transition effects to whichever added pictures you want to apply the effects. If you want to apply the same transition effects to all pictures, you can simply select one transition effect then click "apply to all" in "photo > transition effect". If you want to apply a transition effect to part of the pictures, you can left click mouse and drag to select several pictures, then double click on the transtion effect you want. Then the effect would only apply to those pictures you selected.
Add text to slideshow picture
Want to add text to all pictures but you are freaking out to add text one by one and adjust them to the same position? In fact, you don't have to add text in such time consuming way. You find an edit photo panel when double click the added photo. There is text tab for text adding. After you add text to current picture, you can select the text and click to "Add Selected to All" in that tab on your right. Then when you click on "next photo" button, you will find the text has been added to all pictures with the same position. Now you can spare your time consuming task with photo slideshow maker for Facebook.
Quick way to Embed Facebook Slideshow using Photo DVD maker
When you publish the slideshow, you can upload the photo slideshow or video slideshow to go2ablum first, and through its opened page, copy the the embed code of the slideshow.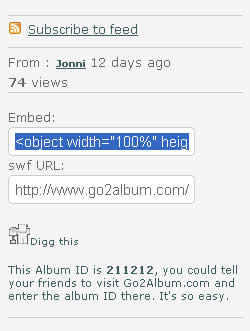 Embed Photo slideshow/YouTube video to Facebook
Step 1 - Copy the code as mentioned above.
Step 2 - On your Facebook, go to www.facebook.com/profileHTML click on the "Profile" link on the top of the page.
Step 3 - In the "Widgets" section and click on the "Create a Widget" link.
Step 4 - Click on the "Paste in widget code" link.
Step 5 - In the "Widget site" dropdown menu, select "Slide".
Step 6 - In the "Name" field, give your Slide Show a name. Next, paste the code into the box below and click the "Save" button and you're done! (Right-click in the box and choose Paste, or just hit Ctrl-V).
By taking the steps introduced above, you are able to embed slideshow that you created on Facebook for sharing with more people. With Photo DVD Maker, the Facebook slideshow builder, you could perfect your slideshow with more stunning effects.