Graduation Slideshow - Commemorate the Passing School Days
Graduating, no matter you graduated from middle school, high school or college, it is an important event for everyone involved for it signifies the end of a life stage and a milestone of one's life. To cherish this wonderful moment, or to commemorate the passing school days, you can make gorgeous graduation slideshows to fully express your feelings with all your memorable photos and videos. With Photo DVD Maker Professional, you can create an amazing graduation slideshow and graduation photo album for sharing with your school mates.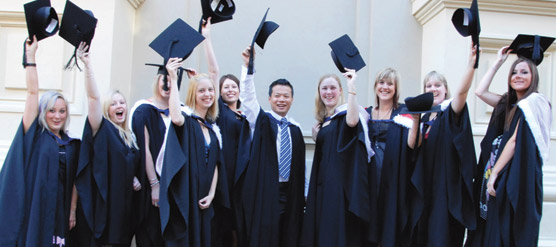 When you remind of the school days, what do you think? The building, course, library, school mate, teacher, club, activities? What I am certain is that you must have something to say about the subject as it has special meanings to you. Graduation slideshow generator like Photo DVD Maker gives you a perfect way to keep your memories on school days in mind more actively. School days is fading away, but you can commemorate the passing days forever with Graduation slideshows!

What You can Expect for Graduation Slideshow Generator
You can expect a lot from Photo DVD Maker, the most suitable slideshow maker for graduation event. Your still pictures can be looked vividly and interesting with various effects; the differnet kinds of graduation photos can be gathered into standalone photo albums; a plently of pictures can be displayed as movie with songs; video that recorded before can also be used as standalone album; all graduation slideshows made can be shared through Youtube, Facebook, MySpace websites, kept with DVD, VCD, Blu ray discs, saved on computer, transferred to PSP, mobile phone devices and so on.
What You Can Add to Graduation Slideshow Generator
Image: JPG, TIFF, BMP and PNG image
Video: MPEG, MP4, AVI, Divx AVI, WMV, VOB, MOV, FLV, RM/RMVB, ASF video format and etc.
Music: MP3, WMA, WAV, CD sound track and voice narration & recordings
What You Can Get from the Created Graduation Slideshow
Creating graduation slideshow with Photo DVD Maker, you could generate perfect photo slideshows or video slideshows on graduaton. The graduation slideshow you made includes several photo albums in different album themes which display each photo album story more clearly and conveniently. No matter where you want to share the slideshow work, on the net or graduation hall or gift CD/DVD, you can get all these come true with Photo DVD Maker.

Tips For Making Gorgeous Graduation Slideshow
You have collected so many graduation photos, but don't know how to organize them to make the slideshow look more attractive? Want to make a gorgeous graduation slideshow effectively? Need some more ideas to make the slideshow? Then you can take a look at the tips below.
Photo/video Gathering; Word Drafting; Atmosphere Creating
Photos and video of special school event can be gathered to reflect the days that you have experienced. You can also gather photos or memorable video clips that taken at the best moments you spent together with your school mates. Want to make it more creatively? You can gather up all your school mates to record their voice and video for inserting to the memorable graduation slideshow.
Graduation Slideshow is more than a photo slideshow, to make it complete and meaningful, the text is very important that could not be ignored. Also, to make this graduation slideshow lively, you can gather words from your school mates to let them show their own personality in their own picture.
To add attractive atmosphere into graduation slideshow, you can choose graduation slideshow songs as background music. Apart from background music, the transition effects can also help to bring special atmophere. There are 60+ transition effects for your choice.