How to Fix the Empty Photo Abum and Missing Pictures Errors?
You created a photo slideshow project with Photo DVD Maker a few days ago. Now you open it again and want to complete the slideshow and burn it to disc. Suddenly, error message pops up, telling you that some pictures are missing, or some albums are empty. If you ignore this, then you probably got blank DVD that won't play!
What happens?
If you got the "Missing file" message upon the program starts up, you must have some pictures moved to other folders or renamed since the last time you edited the slideshow project. And now the Photo DVD Maker cannot reload the picture(s) from the previous location.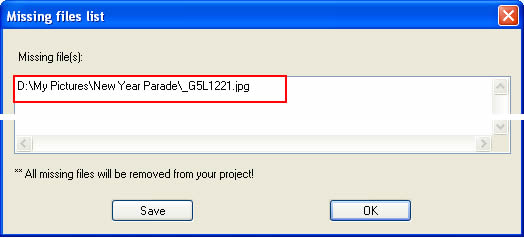 This error message indicates an image is missing
If you got the "No photos in album" message when try to burn the slideshow to DVD or export to videos, you must have created an album in the slideshow project, but forgot to add any picture to it, then the album is empty. Like the Situation 1 as shown bellow:
This error message indicates #02 album is empty, and #03 album has one image missing
How to fix the problems?
1. Error message like below indicates that #02 album is empty. You should add pictures to the album, or delete the album at all.
There are no photos in the following albums:
(#02) Album Name: Christmas
2. Error message like below indicates that #03 album has one picture missing. You should either restore the picture to the exact file path or delete the picture from the album.
(#03) Album Name: New Year Parade
#0001 D:\My Pictures\New Year Parade\_G5L1221.jpg
If you got more than one picture missing, please repeat the above operation to fix the problem.
Why am I getting such kind of errors?
The .pdm file keeps a record of all the information about the photo slideshow you create and modify, such as project name, album names, names and locations of source images, effects used, theme chosen, etc. All settings are written in the .pdm file.
However, the project file does not include the photos or music used for the slideshow. If you move the source images or audio files, or rename these files, the next time you open the .pdm project, you will find some images or music missed, because the program can't load them from previous locations.