Birthday Slideshow Music - Birthday Slideshow Background Music Ideas
What are the materials that you need to prepare for creating a stunning birthday slideshow? Except for lots of birthday related photos, there is a vital part that you can't miss, that is, birthday slideshow songs. Although a birthday slideshow without music is ok, it looks a bit plain and is hard to attract attention. And birthday slideshow music has the capability to make your created birthday photo slideshow look vividly and attractively.
We now know how importance of the birthday slideshow background music for a birthday photo slideshow, but the problem is that we always don't know which is the most suitable birthday song for the birthday slideshow. Searching from the Interent, there are many slideshow music suggestions, however, they are vague and not classified as different birthday age. Here we provide you some birthday slideshow background music ideas and give different birthday slideshow songs suggestions according to different birthday age.
You should always choose the most suitable songs for a particular birthday slideshow. For 1th birthday slideshow, you should find those 1th birthday songs; for 10th, you should add 10th birthday songs; for 50th, you should choose 50th birthday songs to add into the 50th birthday slideshow.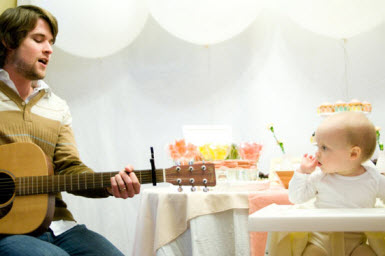 1st Birthday Songs Suggestion - For 1st and Children' Birthday Slideshow
| | |
| --- | --- |
| "Baby of Mine" - Alison Krauss | "Somewhere over the Rainbow" - Norah Jones |
| "Beautiful Boy" - Celine Dion | "Puff the Magic Dragon" - Peter Paul and Mary |
| "Love of My Life" - Carly Simon | "Isn't She Lovely?" - Stevie Wonder |
| "My Little Girl" - Tim McGraw | "What a Wonderful World" - Louis Armstrong |
| "Blessed" - Elton John | "Butterfly Kisses" - Bob Carlisle |
When you create birthday slideshow for babies or children, it is better to choose those lovely and warm songs as background music, showing your love and expressing the joyfulness they bring.
18th Birthday Songs Suggestion - For Young Boys/Girls/Friends' Birthday Slideshow
| | |
| --- | --- |
| "Forever Young" - Rod Stewart | "It's My Life" - Bon Jovi |
| "Don't Stop the Music" - Rihannan | "This Is the One" - The Stone Roses |
| "I Love Rock N Roll" - Joan Jett | "Cheese Wheel" - Factory 81 |
| "Here Comes The Sun" - The Beatles | "San Ber'dino" - Frank Zappa |
| "Back In Black" - ACDC | "Cousin Mary" - John Coltrane |
Different people has different taste on music. To create a birthday slideshow for a 18th or so boy/girl with background music, you'd better use those songs that he/she likes or some other songs that can make people cheerful and delighted.
50th Birthday Songs Suggestion - For Father/Mother's Birthday Slideshow
| | |
| --- | --- |
| "A Day In The Life" - The Beatles | "Pink Moon" - Nick Drake |
| "It Was A Very Good Year" - Frank Sinatra | "Wouldn't It Be Nice" - The Beach Boys |
| "Daydream Believer sung" - Ann Murray | "Georgia On My Mind" - Ray Charles |
| "Long May You Run" - Neil Young | "What A Wonderful World" - Louis Armstrong |
| "Blessed" - Elton John | "Butterfly Kisses" - Bob Carlisle |
Music for 50th birthday slideshow should be chosen in accordance to the theme of the photos you added.

After you have collected the photos and chosen the right celebration songs that you want to add to the birthday slideshow, you can use birthday slideshow maker to create a unique, unforgettable and meaningful birthday photo or DVD slideshow to your belovers.